Many of us rely heavily on the search engines when doing our research, years ago we used to reach for an encyclopedia or other reference book, not any more. The internet has become our ultimate reference guide, from spellings, definitions, research and of course shopping. However I wonder how many people realise how many restrictions are placed on you when you search?
Take for instance my current problem (ok so it's safely in the first world problem category!), I want to take my family on a short tour in the USA – to see some West Coast highlights. So I turn to Google to see what's on offer, typing in some relevant search terms into the world's favorite search engine.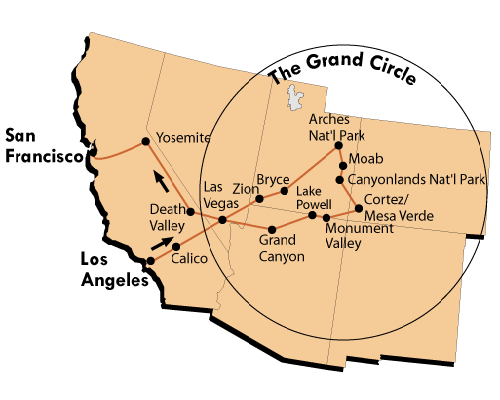 So I get my results, tour operators, offers and holiday companies offering a range of tours covering the Western side of the USA. Which is great, lots of choice – except my choice has been severely restricted without my knowledge simply because of my location. When I visit Google, I am classified as a UK use based on my IP address and so my search results are tailored to that fact. This is of course great if I'm looking for a plumber, a New York based plumber is of little use to me! However it also means that I will get UK based results for my travel search.
So I get UK based firms offering tours around the West coast of the US, which is ok but what I don't get is US firms offering the same thing. Why shouldn't I consider American based firms instead, I'm sure they'd be happy to take me on a tour too. The reality is that without some effort I simply won't see these companies because they will be filtered out in my search – I will see the big UK travel companies who offer tours in the USA. The worst thing is sometimes these are simply the same tours repackaged by UK travel agents, of course with some sort of premium on top of the price.
Google is basically controlling a large part of my decision making process and the choice available. Many thousands of companies do exactly the same, like this as you're logging in from the US I'm afraid. But fortunately there is a solution and it's actually quite a simple one.
It involves changing your IP address and taking control of what you see online. For example in my situation if I change my IP address to a US one then search for West coast tours USA, I'll actually see a whole load of different results. In fact I see US based results, loads of US tours in America, which is actually what I wanted – local firms offering local tours not repackaged for a UK travel agent. The benefits increase I can also use this control to bypass blocks based on my location – this post for example shows how I can watch British TV when I'm actually in the USA. Normally you can't watch the BBC online from anywhere outside the UK.